Studebaker Six Cylinder Engines
Big Six 1913 to 1928: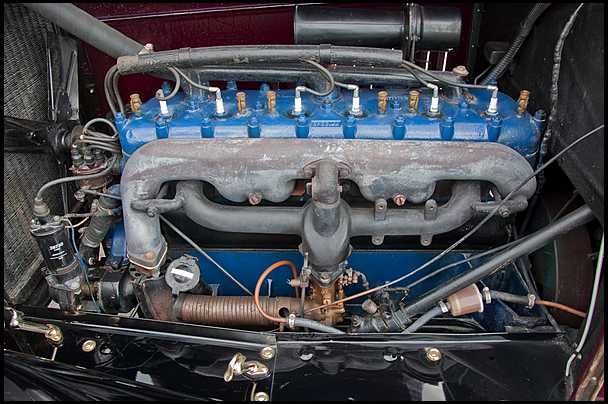 Studebaker's first six, excluding the 1910 Model H Garford, was the rugged 288.6 cubic inch Model E introduced in 1913. The bore was 3.5 inches and the stroke was 5 inches, making 40 HP. This engine design included massive bearings, one inch piston pins, four bolt rods and mains, and fully machined connecting rods.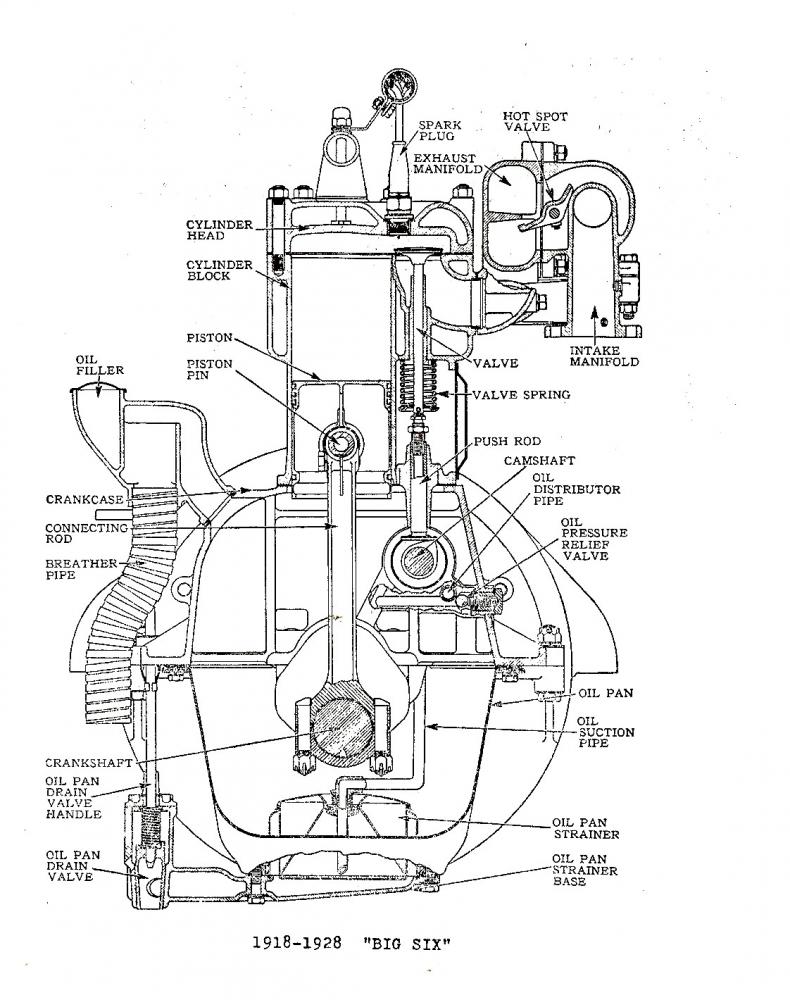 Big Six Enhancemen:
1916: the bore was increased to 3 7/8 inch, resulting in 353.8 cubic inches, making 50 HP.
1918: detachable head was introduced, and HP was increased to 65.
1925: compression was increased from 4.1 to 4.45, increasing the HP to 75, full pressure lubrication is provided to the mains, rods, and camshaft bearings. Main bearing journals are increased by 5/16 of an inch.
Side Bar:
For 1918 & 1919, the 288.6 cubic inch, 3.5 inch bore (Big Six) was re-introduced as the Light six, not to be mistaken with the "new" 207.1 cu. in. Light Six of 1920.
The 1913, 25 HP four, used the same bore and stroke as the Model E Six, resulting in interchangeable pistons, rods, valves, and tappets. The bore of the four was increased in size in 1916 to 3 7/8 inch, just as the "Big Six" was, keeping with the theme of common parts across both the four and six engine design.
Light Six – Standard Six 1920-1930: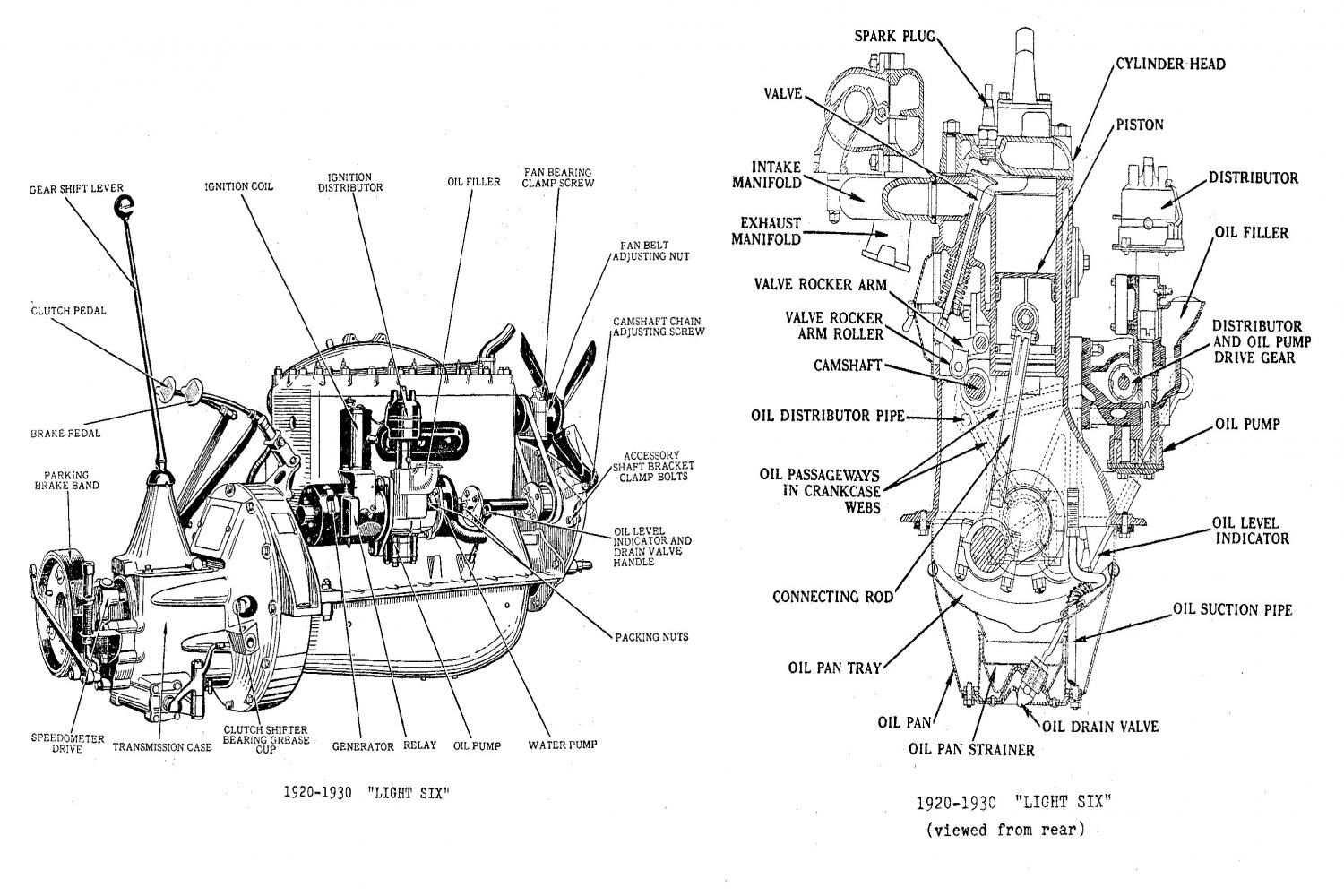 Production of the 207.1 cu. in. Light Six engine began on April 30th, 1920, the four being discontinued the year before. It takes the place of the already existing "Light Six" 288.6 cubic inch engine which is renamed the "Special Six". This provides Studebaker with three six cylinder engine choices to fit it's three car lines; Big Six, Special Six, and Light Six going into the 20's.
In contrast to the interchangeable parts between the larger two engines, this engine is a unique new design. Fitted with inclined valves with bell-crank roller tappets, aluminum cylinder head, integral intake manifold, and fully machined crankshaft and rods. It used an accessory shaft, chain driven, which provided power for the water pump, oil pump, generator, distributor, and fan. Lubrication is full pressure to the main bearings, cam bearings, and timing chain and splash to the rods. This engines bore is 3 1/8 inches and stroked at 4 ½ inches, making 40 HP at 2000 RPM.
Manufactured from 1920 to 1930, the engine is used in the Light Six, Standard Six, Dictator Six, Commander GJ, and the Model 53 Erskine.
Enhancements:
1925 (Standard Six): the bore is increased to 3 3/8 inch and the compression ratio is increased from 4.38 to 4.5, resulting in 50 HP at 2200 RPM from it now 241.6 cubic inches. The head is now cast iron and the block is modified adding intake ports next to the exhaust ports. Full pressure lubrication is added.
1928, (Dictator): HP increased to 67 from the same 241.6 cubic inches.
1929-30 (Commander GJ): engine stroked at 4 3/8 inch – 248.3 cubic inches making 75 HP.
1930, (Dictator): engine stroked at 4 1/8 inch – 221.4 cubic inches, making 68 HP, (Last Dictator Six until 1934).
1930, (Erskine – Studebaker Six): bore reduced to 3 ¼ – 205.3 cubic inches, making 70 HP.
1931-33, (Studebaker Six): the engine was farther refined (bore little if any resemblance to the existing 205.3) ,keeping the same cubic inches, but with an entirely different layout. The accessory shaft was eliminated. The water pump moved to the front, generator moved to the left front - driven by a crankshaft pulley, intake, exhaust, and carburetor moved to the right side - requiring a completely new block and head. Distributor moved to the left side driven off the camshaft. The rods, crankshaft, pistons, valves, and other internals were all that were retained. These changes set the pace for Studebaker Six engine design for years to come.
Rockne – Commander – Dictator Six 1932 – 1960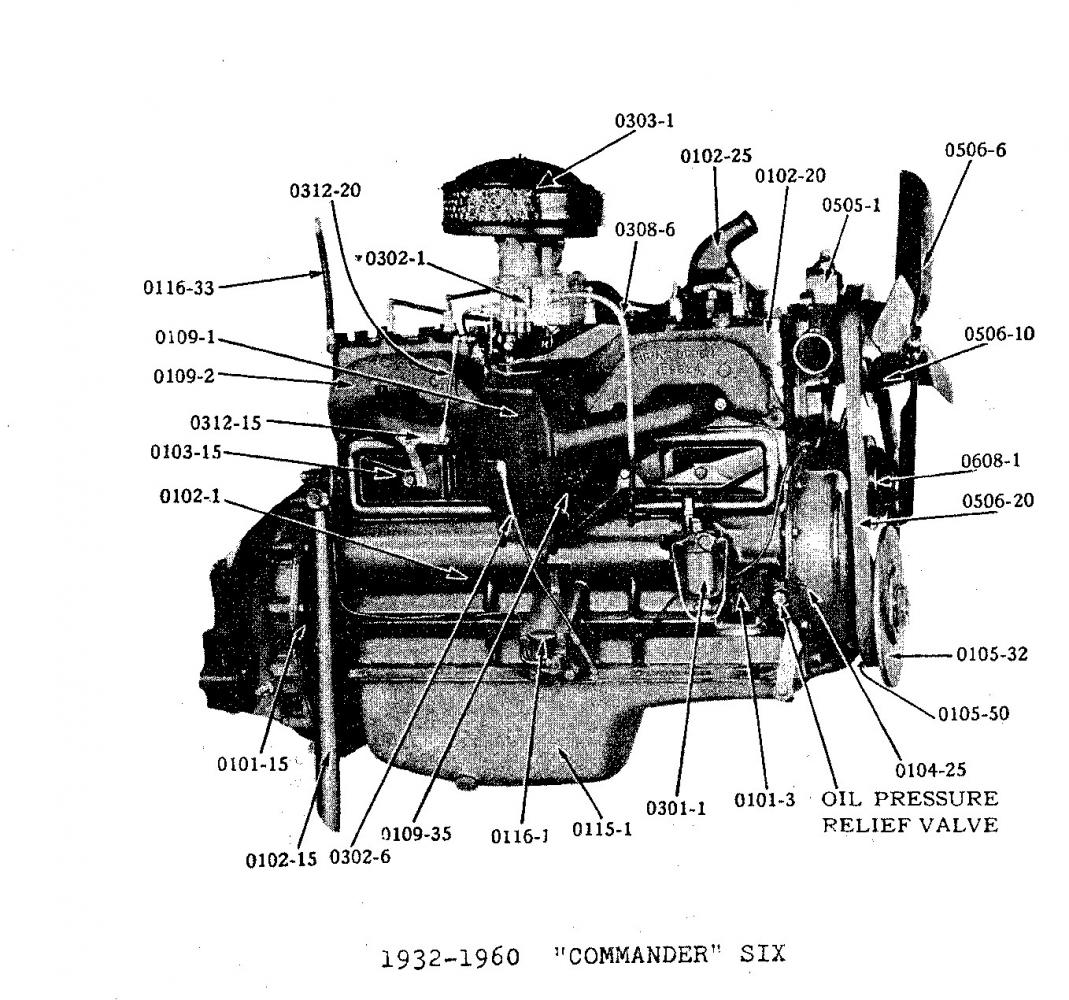 First designed to power the 65 Rockne (1932), having a 3 1/8 inch bore and 4 1/8 inch stroke at 189.8 cubic inches, it developed 66 HP at 3200 RPM. It used a counter-weighted, dynamically balanced, and rifle-drilled crankshaft; vibration damper; silent chain camshaft drive; high velocity cooling; and electro-plated pistons; all typical fine car features of the day.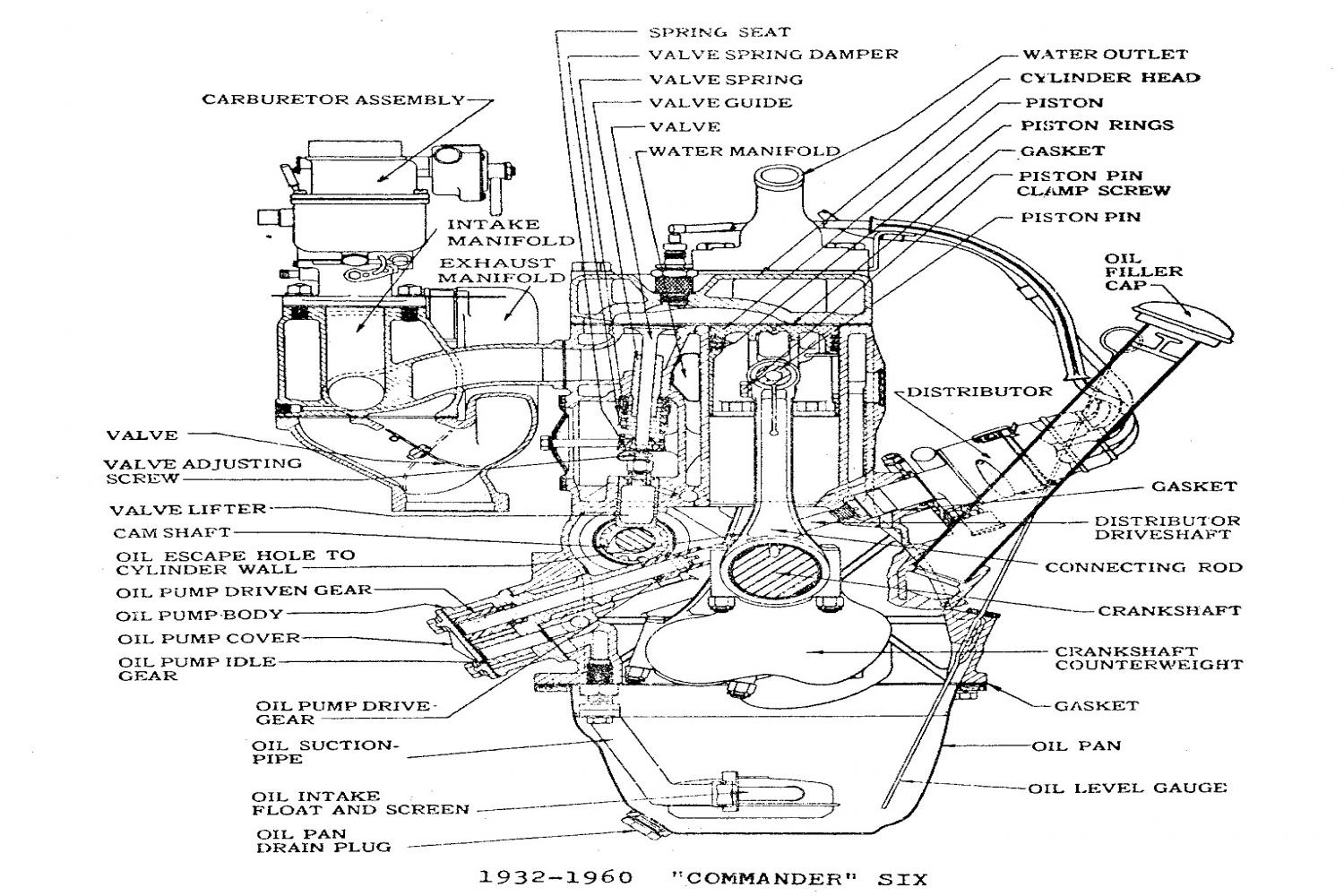 Enhancements:
1933 (Rockne 10): compression raised to 5.5 to 1 increasing the HP to 70 at 3200 RPM.
1934-35, (Dictator): gear driven valve train, down-draft carburetor, increase bore to 3 ¼ inch – 205.3 cubic inches, making 88 HP.
1936-37, (Dictator): increase stroke to 4 3/8 – 218.8 cubic inches, making 90 HP.
1938-41 1947-48 (Commander): increase bore to 3 5/16 – 226.2 cubic inches, making 90-94 HP
1949-50 (Commander): increase stroke to 4 ¾ – 245.6 cubic inches, making 100HP.
This basic engine configuration was also used on the K, L, M, R, and E Series trucks from 1938 to 1960, mostly in the 226 cubic inch and 245 cubic inch versions. The 249 cubic inch version of this engine finished in 1960 at 118 HP, producing 204 foot pounds of torque at 1400 RPM. The Power-Plus Engine in the ad below.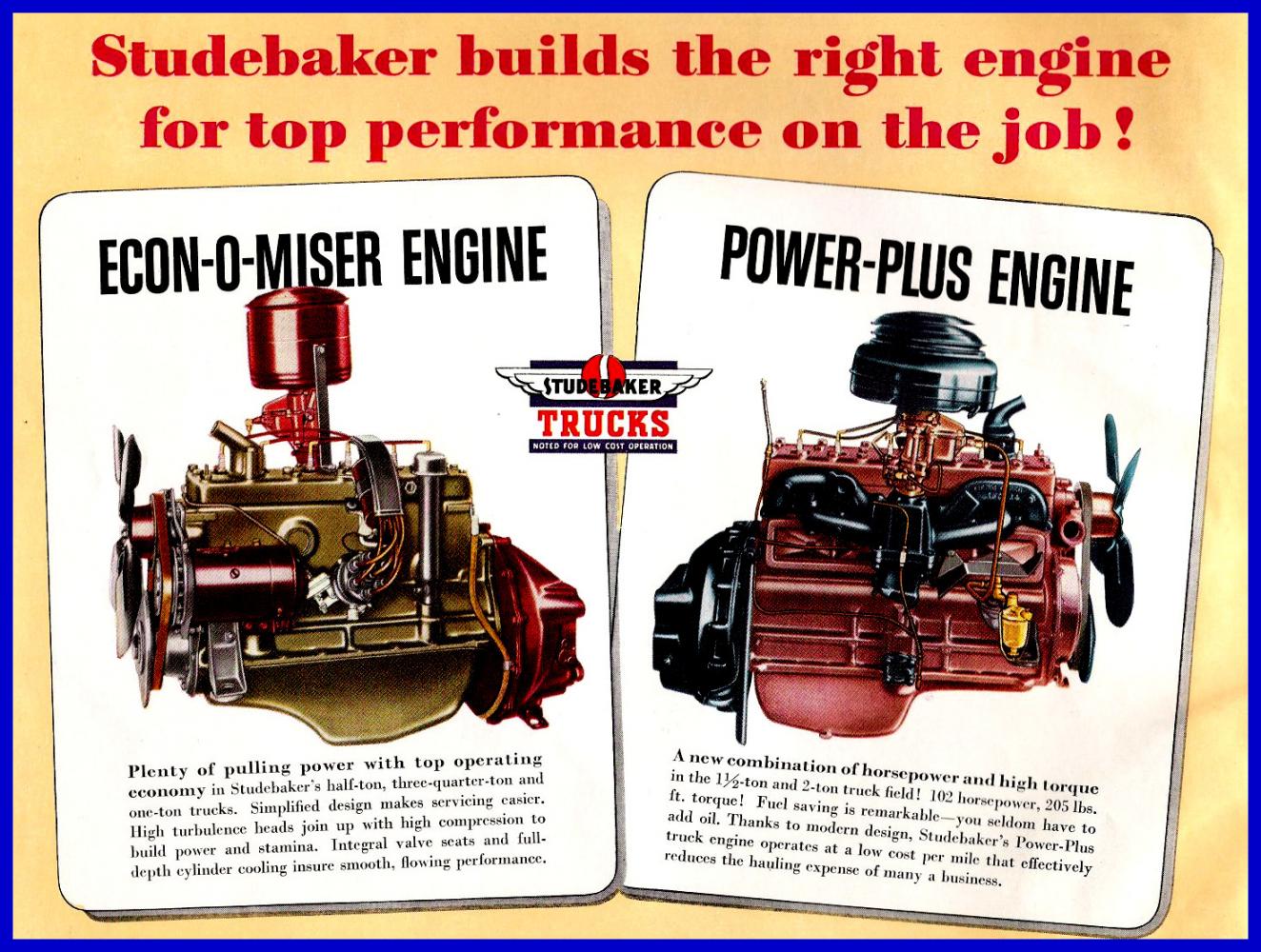 The Power-Plus is the Commander engine (above)
The Econ-O-Miser is the Champion engine. (Below)
Champion Six 1939 -1964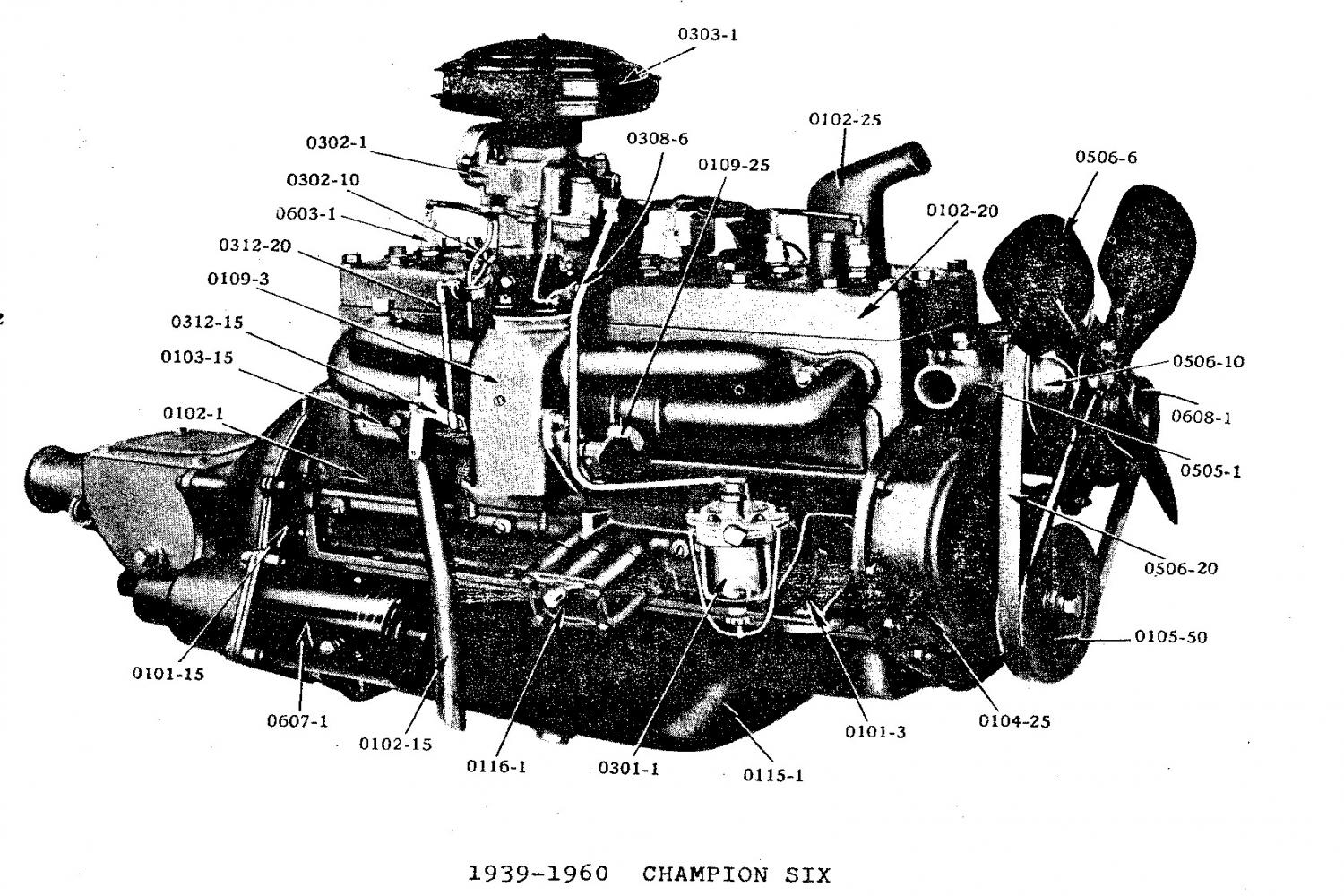 Free of the need to use this engine in other heavier cars or trucks, the Champion engine was designed with nearly zero chance of increasing the bore size. In it's original configuration of 3 inch bore and 3 7/8 stoke – 164.3 cubic inches, it produced 78 HP. This fresh new design was on average 170 to 250 pounds lighter then the competition's sixes and developed 17 to 24 percent more horsepower per cubic inch then the competition. It feature a 3/16 inch overlap of the main and connecting rod bearings; full pressure lubrication; sealed water pump; and a one-piece manifold.
Enhancements:
1941-42 1946-49: increase the stroke to 4 inches – 169.6 cubic inches making 80 HP.
1950-54: HP increased to 85.
1955-58: stroke increased to 4 3/8 inches – 185.6 cubic inches making 101 HP the engine is painted silver instead of olive drab.
1959-60: reduced stroke back to 4 inches – 169.6 cubic inches making 90 HP.
Champion Overhead Valve Six 1961 – 1964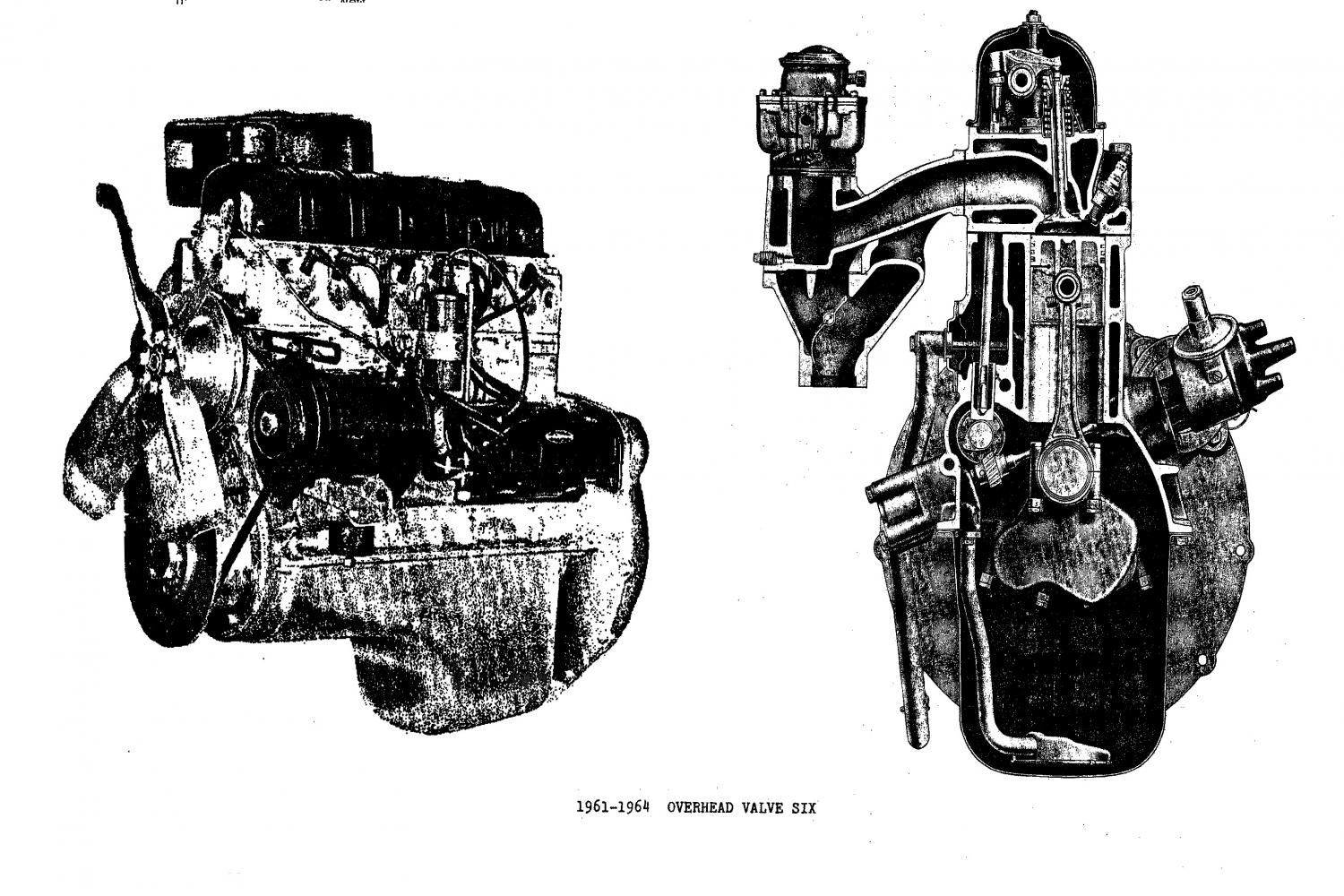 In 1961 the L-head 169.6 cubic inch engine was converted to overhead valve, improving the breathing through larger valves and better manifolding. The new "Skybolt Six" was 112 HP and 154 foot pounds of torque.
Enhancements:
Full flow oil filter 1962




Slipper pistons late 1963.



Summery
In Studebaker's fifty three years of production, only five basic six cylinder engine designs were utilized.
Credit: A lot of the information and photos come from a Turning Wheels article by H.L. Beckman. Other information came from "Studebaker the Complete Story" by William Cannon & Fred Fox.