---
Rock River Valley Chapter of the Studebaker Drivers Club
---
The chapter's request for a charter from the National Studebaker Drivers Club was presented November 14, 1981.
The charter was issued July 12, 1982.
The Charter members were Vic Phillips, Jerry Soulak, Dale Gittings, Preston & Cheryl Rae, Ed James, Hennely Hall, Pete Bell, and Phil Mosher
Their may have been more, but these members were listed in the 1992 letter show below.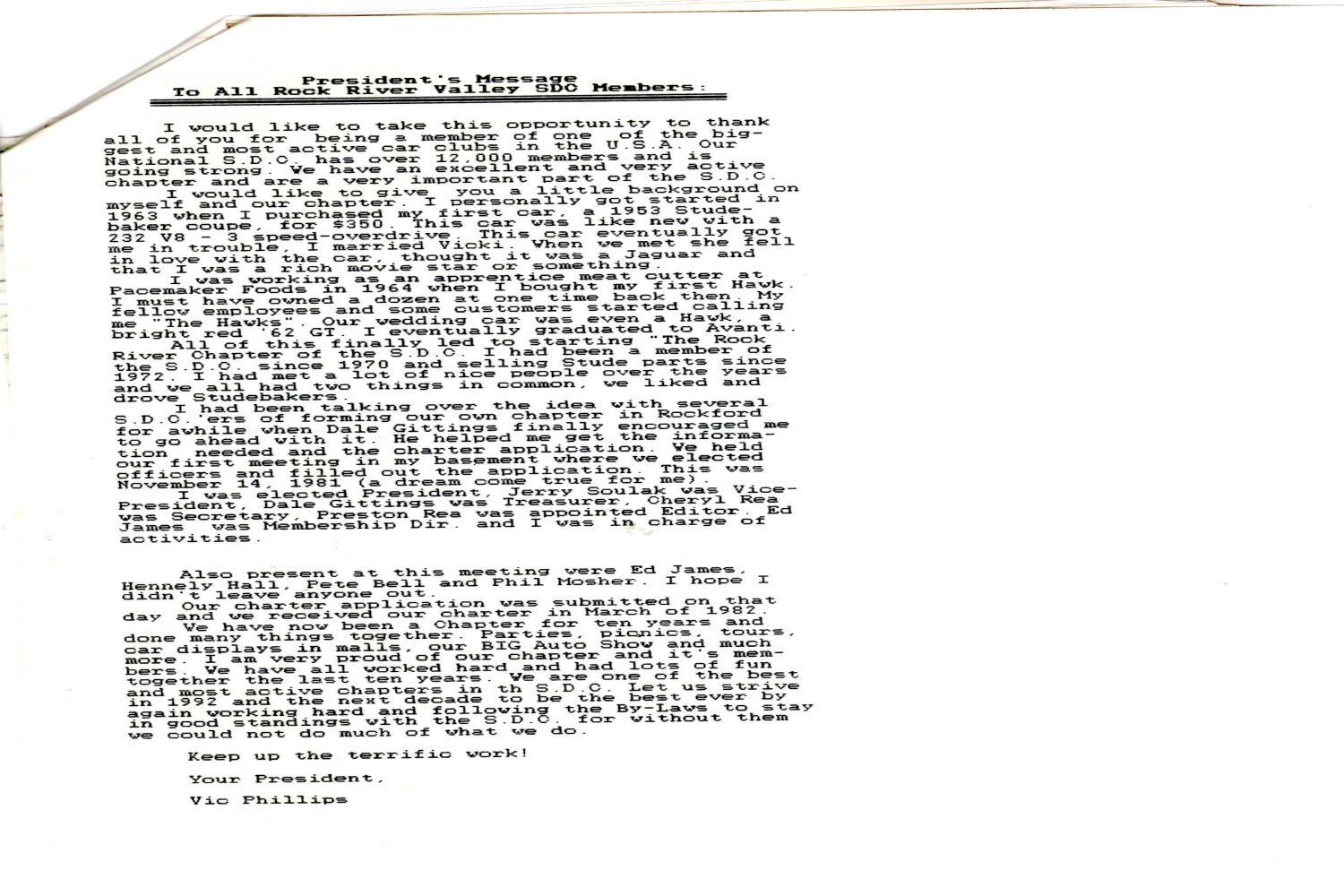 ---
The chapters purpose has always been to promote Studebaker cars, not just as show cars, but as drivers as well.
---
The club holds many events through out the year. The events change, as determined by the membership, but normally include "St. Patrick's Day Party"; "Spring Tour"; "Summer Cruise Nights"; "Zone Meets"; "A Fall Event"; and conclude every year with the "Annual Christmas Party".
---
The chapter has published it's own news letter in some form or other since the very beginning, called "The Strato-Vue", dues paying member are entitled to six issues of the clubs news letter, and are allowed to run ads on the "Strato-Vue Market Place" page for free. The Strato-Vue hold tons of information, including Presidents Message, coming events, Club Cars section, Service Bulletins, and much much more.
---
The club has held it's meetings at several places over the years, starting with Jarnines in Belvidere IL, then Top Hat and Western Sizzler in Loves Park IL, later Jessica's in Roscoe, just to mention a few. We most likely have left out a few. The monthly meeting is currently held at Stockholm Inn, in Rockford IL
---
Below is a table which lists the past and present Chapter Presidents, many others have shared in the work and direction of the club as officers and chairs of many committees, but that list is just to long to compile in this space, however our heart felt thanks to every member who has made the club stronger.
"Thank You"
Past and Present "Presidents"

| Year | Name | Year | Name | Year | Name | | |
| --- | --- | --- | --- | --- | --- | --- | --- |
| 1981 to 1984 | Victor Phillips | 1989 to 1991 | Dave Neiber | 1995 to 1997 | Peter Bell | 2001-to 2017 | Jack Willis |
| 1985 | Peter Bell | 1992 | Victor Phillips | 1998 | Don Lutmer | 2018 to Present | Fran Tremain |
| 1986 | Phil Mosher | 1993 | Gary Powell | 1999 | Dave Neiber | | |
| 1987 to 1988 | Ed James | 1994 | Victor Phillips | 2000 | Larry Hachet | | |
In 1852, the Studebaker Brothers started building horse drawn buggies, carriages and wagons. Their wagons were a primary mode of transportation as the nation migrated westward. Studebaker carriages were used by US Presidents, including the carriage that took President and Mrs. Lincoln to the Ford Theater on that fateful night.
In 1902, Studebaker started building electric automobiles, but soon went to gasoline power. By 1915, Studebaker was building more than 45,000 cars annually. Wagon production also continued until 1919. In 1928, Studebaker acquired Pierce-Arrow. Unfortunately, by 1933 Studebaker had gone into temporary receivership, but was on the road to recovery in 1934.
In 1939, Studebaker introduced the Champion, a new economy model designed by the soon to be famous Raymond Lowey studio. During WWII, Studebaker produced trucks and radial engines for aircraft, including the B-17. After the war, automobile and truck production resumed with a vengeance. In 1950 and 51, Studebaker offered their famed bullet-nose design.
In 1953, the incredible new "Lowey coupe" was introduced. Bob Bourke, a member of the Raymond Lowey team, is credited with the innovative new design. During the last half of the fabulous fifties, Studebaker introduced their family of Hawks, and in 1959, responded to the growing demand for a more compact family car with the Lark.
Studebaker once again turned the automotive design world upside down in 1963 with the unveiling of the Avanti. While the Avanti was universally acclaimed, Studebaker's days as a US company were numbered. Production ceased at the long-time South Bend, Indiana plant in 1964, Studebaker production continued in Canada until 1966.
The Avanti Motor Company continued to build the Avanti II in South Bend until 1987 when production moved to Youngstown, Ohio where it was produced until 1991. Avanti motorcars are currently being produced in Villa Rica, Georgia.
The Packard Connection
Due to a number of factors, Studebaker's finances were poor by 1954, leading to a acquisition of Studebaker by Packard. Studebaker-Packard would fare no better, as they would lose 43 million dollars in 1956. The Packard name would disappeared altogether after 1958.
Listed below are additional Links to Studebaker History To Top of Page