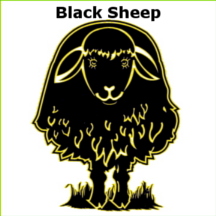 What is the Black Sheeps Club, it's an extention of the RRVCSDC Club.
Membership Requrements: None, just join us for breakfast when ever you want. (Friday Morning 8:30 a.m.)
Dues: None
Rules: None
Location: Sophia's, 5467 Bridge Street, Roscoe, IL
---
* RRVCSDC - Rock River Valley Chapter of the Studebaker Drivers Club ** SDC - Studebaker Drivers Club
Real Bad Black Sheep: Those who don't own a Studebaker and are not dues paying members of the *RRVCSDC or the **SDC. However, be warned that Jack will be working hard to change your mind about not belonging to RRVCSDC and the National Studebaker Drivers Club.
Not so Bad Black Sheep: Others who belong to *RRVCSDC and **SDC, but drive brand "X" cars and trucks.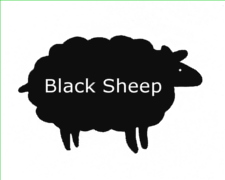 Regular Black Sheep: The guys who join in the breakfast fun and are Stude owners and drivers.
Crossover Black Sheep: As you might expect we have crossovers as well, people who drive Stude's and brand "X".
Really though the Black Sheep are just a bunch of guys, who gather once a week on Friday morning to have breakfast and lie a little about old cars. Wives are welcome and many of the wives are there each week. Most often, some of the guys and gals, plan during breakfast, a location for dinner out Friday evening. Anyone is welcome to join in this evening event as well.
Having fun, with fun people, a great way to spend some time on Friday, why not join in the fun.
The Black Sheep also sponsor the "Sophia's Cruise Nights" during the summer months.