Studebaker's Four Cylinder Engines
First Fours: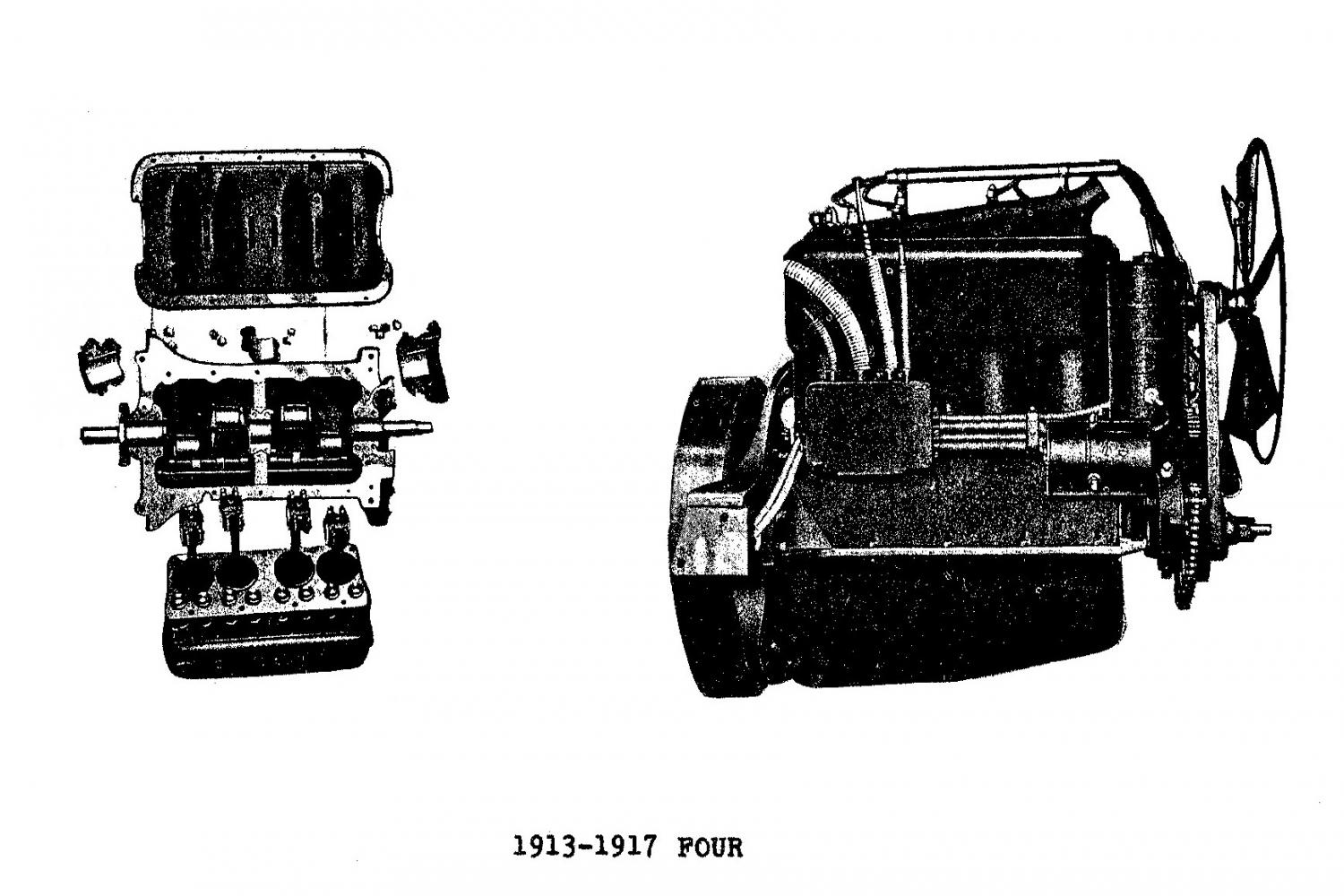 The first cars Studebaker put it's own badge on, where manufactured in 1913 in the old EMF plant in Detroit, MI. While many folks think these first cars were simply re-badged EMF 30's and Flanders "20's", at least the engine spec's would deny that. There were two four's that first year (1913) as follows:
1913: SA "25" 196.4 cubic inches making 25 HP with a bore of 3.5 inches and a stroke of 5 inches. This engine was designed exactly like the Model E Six (Big Six of 1913) other then the number of cylinders. Thus both engines could use the same pistons, rods, valves, and tappets.

1913: AA "35" 267.3 cubic inches making 35 HP with a bore of 4.125 inches and a stroke of 5 inches. This design had nothing in common with either the Model E Six, or the SA "25" four, or for that matter any EMF engine or Garford engine. It appears this engine was only used for 1913 as in the 1914 product year Studebaker dropped to two product lines, the SC Four and the EB Six.
1914 - 1915:

The smaller of the two four's survive into the years 1914 & 1915 with no significant design change. The HP is increased to 30 from 25. This four is used in both the SC and SD Models.

1916 – 1917:

For the 1916 (actually June of 1915), both the six and four engines were redesigned. The bore of both was increased to 3 7/8 inches. Thus the four was 235.7 cubic inches, making 40 HP. The stroke remained at 5 inches for both engines. This redesigned four was used in the Model SF series 16, 17, and 18. The four was most likely redesigned to continue the parts interchange with the six engine.

1918 – 1919:

For 1918 & 1919 Studebaker increased it's line-up to three levels, "Big Six", "Special Six" and "Light Four". The "Special Six" had a "Big Six" engine design, but the bore was reduced to 3.5 inches, thus the four was also reduced to 3.5 inches (192.4 cubic inches), but still making 40 HP. This engine was used on the SH Light Four.
1918 & 1919 were the last two years Studebaker manufactured a four.
Credit: A lot of the information and the photo came from a Turning Wheels article by H.L. Beckman. Other information from "Studebaker the Complete Story" by William Cannon & Fred Fox.