Welcome to the Rock River Valley Studebaker Drivers Club Website
Last Updated:
| | |
| --- | --- |
| | Updated Featured cars of the third Quarter 2018 |
| June 11th, 2018 | Updated Upcoming Events Information |
Click on the Globe left to go to the Sub-Site "Articles", if you are interested in automotive trivia and history, else don't bother.
---
July, August, & September
STUDEBAKER
FEATURED CAR OF THE MONTH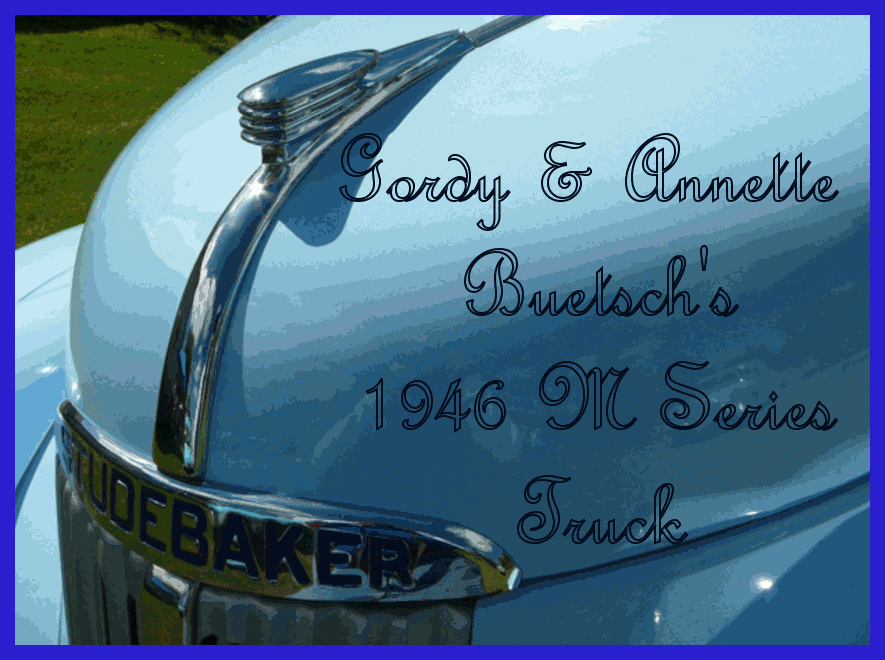 This 1946 M Series Studebaker truck belongs to Gordy and Annette Buetsch. While looking quite Studebaker like in the photo's, hiding under the covers is a lot of Chevy stuff. Here is the story on this highly modified Studebaker truck.
In the early 1970's Gordy found and rescued this truck from Murray's Auto Salvage in Broadhead Wisconsin for his brother Sherm, paying the huge sum, at that time, of $50.00. Sherm started a restoration of the truck, but had somewhat lost interest in the project, when Gordy had the misfortune of totaling his 1957 Chevy Pickup. This happened two or three years after the initial purchase of the 46 M Series pickup. Now Gordy was looking for something to put the running gear, from the 57 Chevy, under and turned to brother Sherm. Sherm let Gordy re-acquired the Studebaker truck, which was by the way already in Gordy's garage were Sherm had been working on it, for a couple of hundred dollars.

Initially Gordy placed most, but not all the Chevy running gear under the Studebaker, which included a Chevy 327 V-8 with standard overdrive transmission and the rear axle and springs, + a lot of the front end.&nbsp When he finished the conversion some six or eight months later, the truck became his daily driver for the next three years, ending about 1980 when he found something else to drive daily to save the Studebaker. &nbspThe truck then became the family camper along with a matching trailer he built from another Studebaker truck box and axle.&nbsp Even later, they used it to pull the race car all over and back.

In the last iteration of the truck, Gordy replace the standard transmission with a 350 Chevy Turbo automatic transmission and put the Dodge A100 bucket seats in the truck.&nbsp He provided a lot more information about the current trucks condition, Crager wheels and Hurst Shifter and so on, but was more then I could write fast enough or remember.&nbsp But, suffice to say, it is a really nice looking truck.

The following are some excerpts from Skip Lackie's article on Studebaker trucks from the SDC website.
In 1941, Studebaker decided to stop trying to compete against the likes of Mack, Diamond-T, and Autocar for the sale of heavy-duty trucks.&nbsp Instead, the company focused on producing a more complete line of light- and medium-duty trucks.&nbsp Attractive and modern, the cab employed some body panels from the 1941 Champion passenger car, as well as its basic dashboard.&nbsp The hood, fenders (interchangeable front to rear on each side), and grille, however, were unique to the trucks.&nbsp The M series consisted of the ½-ton M5, 1-ton M15, and 1½-ton M16.&nbsp The M5 and M15 were powered by the 170-ci, 80-hp, 6-cylinder engine that had been introduced in the all-new 1939 Champion passenger car.&nbsp The M16 got the 226-ci Commander 6 that had been in use since 1938.&nbsp M-series trucks came with either Standard or DeLuxe trim.&nbsp Standard trucks had painted grilles and black fenders.&nbsp DeLuxe models got stainless steel grille bars, bright metal side moldings, body-colored fenders, and other niceties.&nbsp The M5 came with a 113-inch wheelbase, most equipped with a 6 ½-foot pickup box.&nbsp In advertising, these pickups were called Coupe-Express.&nbsp The M15 was available with wheelbases of 120, 128, and 152 inches, and the M16 could be had with 128, 152, and 195-inch wheelbases.&nbsp The M15-20 (120-inch wheelbase) was available with an 8-foot pickup box.&nbsp M5 production began in November 1940, M15 and M16 production began in December 1940.
Pre-War M-series truck production was:
| | |
| --- | --- |
| | 1085 Units |
| 1941 | 9215 Units |
| 1942 | 1515 Units |
Post-War M-series truck production was:
| | |
| --- | --- |
| | 664 Units (December) |
| | 43,196 Units |
| 1947 | 67,809 Units |
| 1948 | 19,316 Units (January to March) |
The M-series trucks (especially the M15) are sometimes criticized for being underpowered. The charge may be valid, but it must be remembered that both the M5 and the M15 were really intended for farm use. In rural areas of the U.S. in the 1940s, there was little need to go more than 30 mph – so 80 hp was enough power most of the time. And once gas rationing started, most M5 owners were probably thankful that their thrifty little Champion Six could go a whole week on the four gallons of gas that an A ration stamp provided. The M Series trucks were produced for military use from February of 1942 until 1945 when a limited amount of hybrid military/civilian style trucks were produced. Full production of 1946 M-series trucks began with 367 M5s built in December 1945. The model line-up was the same as in 1941, plus a new M17 2-ton export model. The stainless steel grille trim and some other DeLuxe features were no longer available, but others were made standard equipment. All M5s now had body-colored fenders, while larger models continued to be equipped with black fenders. M-series truck production continued with the same drive trains throughout 1946 and 1947 and into March 1948. A few running changes were made, one of which was the introduction of a massive painted front bumper on the M15-28, M16, and M17 models in 1947. Despite their very limited model lineup, the M-series trucks were a huge success.
July, August, & September
BLACK SHEEP
FEATURED CAR OF THE MONTH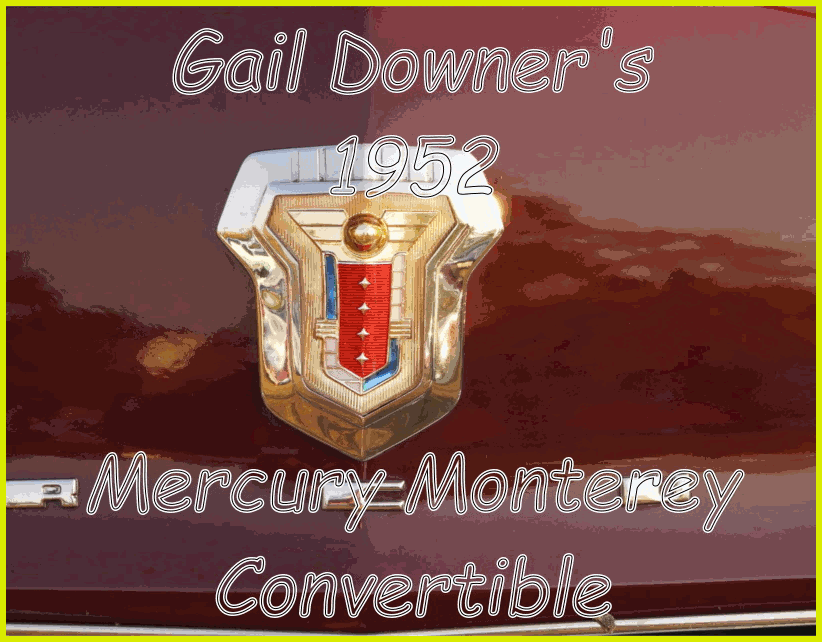 This fine example of a 1952 Mercury Monterey Convertible is owned by Gale Downer. Gail purchased the car from Jerry Englebrecht's widow shortly after Jerry passed away. It had been undergoing a complete restoration when Jerry died and Gale finished the work with some help from Sanders Restoration shop. There were 5,261 Monterey convertible's manufactured and Gale stated that only 49 are still road worthy today. The car originally sold for about $2,400 dollars. A number one car today would be valued at something North of $30,000.
The Monterey name was first used by Ford Motor Company on their 1950 – 1951 Mercury's as a counterpart to Ford's Crestliner. These cars were intended to be a fill in, until Ford could field a true pillerless hardtop. They had a plusher interior and featured a canvas or vinyl covered roof. They were a sub-series in the Mercury line-up.
In 1952 the Monterey was offered in three body styles, four-door sedan, two-door pillerless hardtop, and for the first time a two-door convertible. A legitimate two series line-up would not come until 1953 when Mercury first offered both the Monterey and Custom Series. Gale's car features a standard transmission without overdrive, powered by the 255.4 cu. in. flat head V-8 making 125 HP. The engine bore was 3.19 inches and was stroked at 4.00 inches. Mercury's of this vintage, feature exceptional styling and solid construction with high-quality fit and finish. They had carpeting on the floors and striking door panels with stainless inserts that separated them from the Fords. The designer had a fascination with things aircraft, found in the control levers for heat and ventilation flanking a centrally-mounted speedometer. Also featured on this car is the push button radio and vintage electric clock.
Gasser Wars magazine did the linked story below in one of their issues this summer. They have given us permission to share the article with you as long as we give them credit. The article was written by Phil Morris. It is an article about Gordy Buetsch's dragsters and his life long love of the sport. Click on the link below "Gasser Wars" and enjoy the article in a seperate window. Enjoy!!!!!!!!
The next link will take you to the Gasser Wars Magazine
---
The club meets the first Monday of every month, unless that date is a holiday, then the meeting is on the next Monday.
Date of Next Meeting:
Meeting Dates for 2018
January 8th, 2018
February 5th, 2018
March 5th, 2018
April 2nd, 2018
May 7th, 2018
June 4th, 2018
July 2nd, 2018
August 6th, 2018
September 10th, 2018
October 1st, 2018
November 5th, 2018
December 3rd, 2018
Location: Stockholm Inn, 2420 Charles Street, Rockford IL
Time: Dinner at 5:30 P.M. Meeting starts at 7:00 P.M
TOP
---
Reserve Now Iowa Summer Tour and Zone Meet Wednesday, August 8 – Sunday, August, 12, 2018
Up to 30 people from RRVCSDC may be heading for Iowa. Paul and Linda Wold welcome you on a 2-day preliminary tour they have planned in hopes that you will also attend the two-day Zone Meet in Iowa City (Coraville).
Preliminary Schedule and reservation information:
Contact Fran & Kathy Tremain or the Wolds with questions. Tell the Tremains if you plan on coming and if you're bringing a Studebaker. Thanks to Ed and Sharon Stevens for inspiring this event.
Wednesday, August 8
8:00 a.m., Leave the South Beloit Road Ranger/Pilot on the w. side of I90 & Hwy 75. Travel through southern Wisconsin towards Dubuque. 10:30 – 11:00 Rest stop in Dubuque (Check with Fran for location) Noon: Lunch at J's Homestyle Cooking, north 4 miles off Hwy 20, exit 225 Address 1724 W 31st St, Cedar Falls, IA , +1 319-266-3199 2:30-4:00 The Hemken Collection (Auto Museum) in Williams, Iowa - $5 each 202 Main Street, 515-854-2749. 6:00 p.m. Pizza Supper ($5 per person) at Paul and Linda Wold's, 803 NW 32ND ST. Ankeny IA, 50023 (North suburb of Des Moines). (Exit Interstate 35 at Ankeny, 36th St) Home 515-257-8462, Cell 515 829-8507.
Wyndham Ankeny Sleep 2 nights at the Ramada by Wyndham, 133 SE Delaware Ave., Ankeny, IA, 515-964-1717. $85 per night, 2 queens, first floor. Register under the "Studebaker Tour". Cancel before 4:00 p.m., 8/8. Free great breakfast at the adjacent Ankeny Diner.
Thursday, August 9
10:00 a.m. - View Private car collection at the home of Ken and Sue Wiley, in 3 story building, with garage, sewing room, antique radios and too many collectibles to mention. 12:00 Noon. Lunch at the Whistling Donkey in Woodward, Iowa 1:30 p.m. – View Private car collection of Dean and Bettie Jane Bibler. Dean has restored his cars to an amazing level of perfection. He's also a chemist who has designed a fantastic collection of automotive prep and care products distributed under the name PPC Best. (PPCBest.com) Bring your questions about paint, prep, cleaning, and detailing, including household projects too. Women may leave early with Linda Wold for some shopping and browsing. 6:30 p.m. - Supper at the Ankeny Dinner, in a private room. Stay for cards or conversation. Retire to your adjacent room in the Ramada.
Friday and Saturday, August 10
Leave Ramada at 9:30 a.m. for the 2-day Zone Meet near Iowa City. Richard Quinn – Sat. night banquet speaker, hospitality room, swap meet, seminars, Fun Night, silent auction, drive-through judging, large tent for outdoor games & conversation. Bring your lawn chairs.
See reservation and registration information for both the meet and the hotel ($94/night at the Clarion Highlander Hotel) on page 33 of the June issue of Turning Wheels or the web site below. Call Cindy Sale at 515-229-8866 or Tom Sexton at 319-430-4548 with questions. http://www.iowahawkeyechapter.com/
Sunday, August 12
Leave for home. Stop for lunch or a break at the Iowa 80 (world's largest) Truckstop just west of the Quad Cities. See the Antique Trucking Museum a block way. Cash donation. https://iowa80truckingmuseum.com Iowa 80 Truckstop 755 W. Iowa 80 Rd. I-80, Exit 284 Walcott, IA
Sunday afternoon – Back safe in Illinois.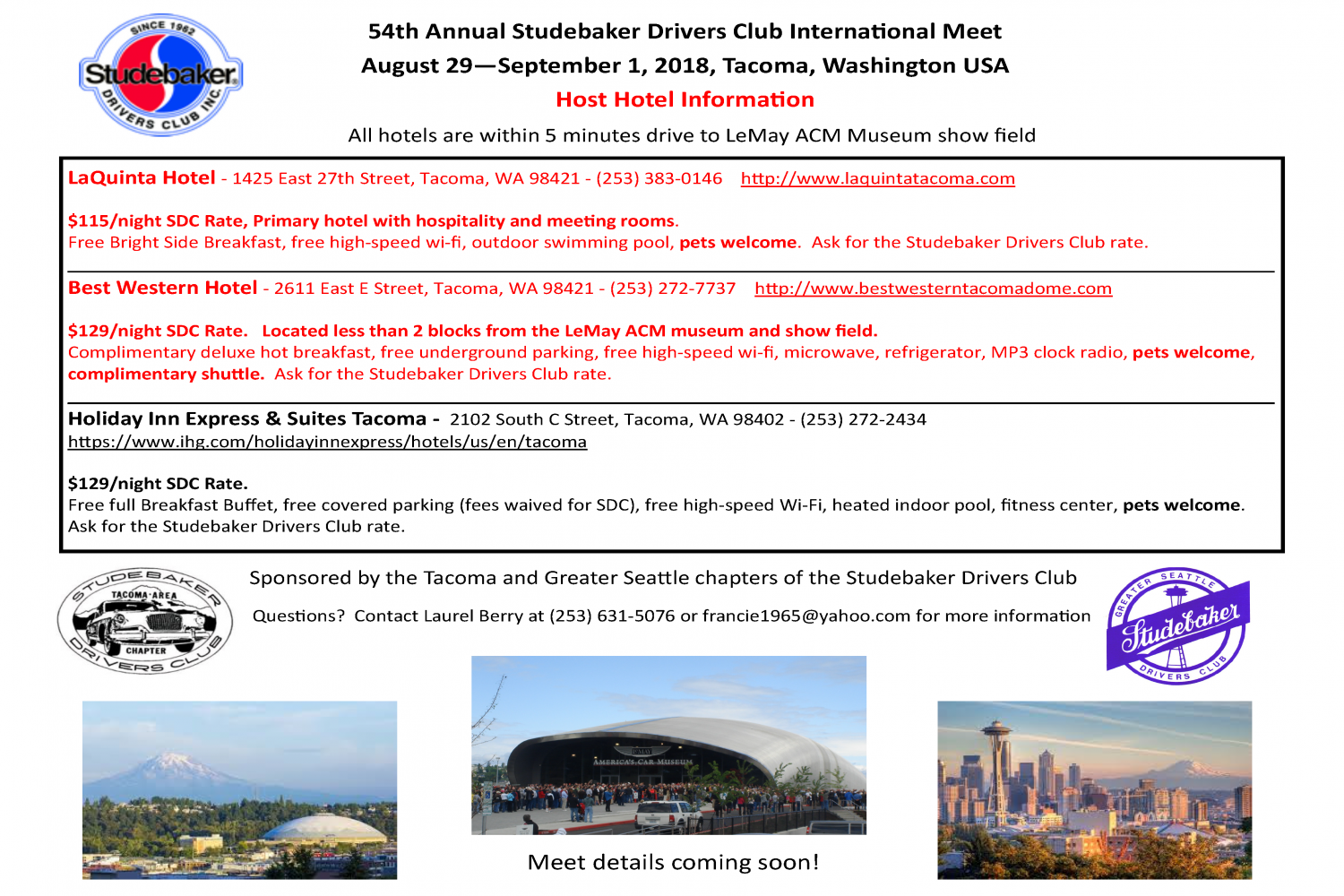 Live Links Below
---
Information will come at a later date as it becomes available.
This web site is owned by The Rock River Chapter of the Studebaker Drivers Club, All contents © 2017, Rock River Valley Chapter of the Studebaker Drivers Club, and may not be reproduced without permission.